The Sound that Fish Make: Animism, Humanism and the Need to 'Do Work'
Portia Malatjie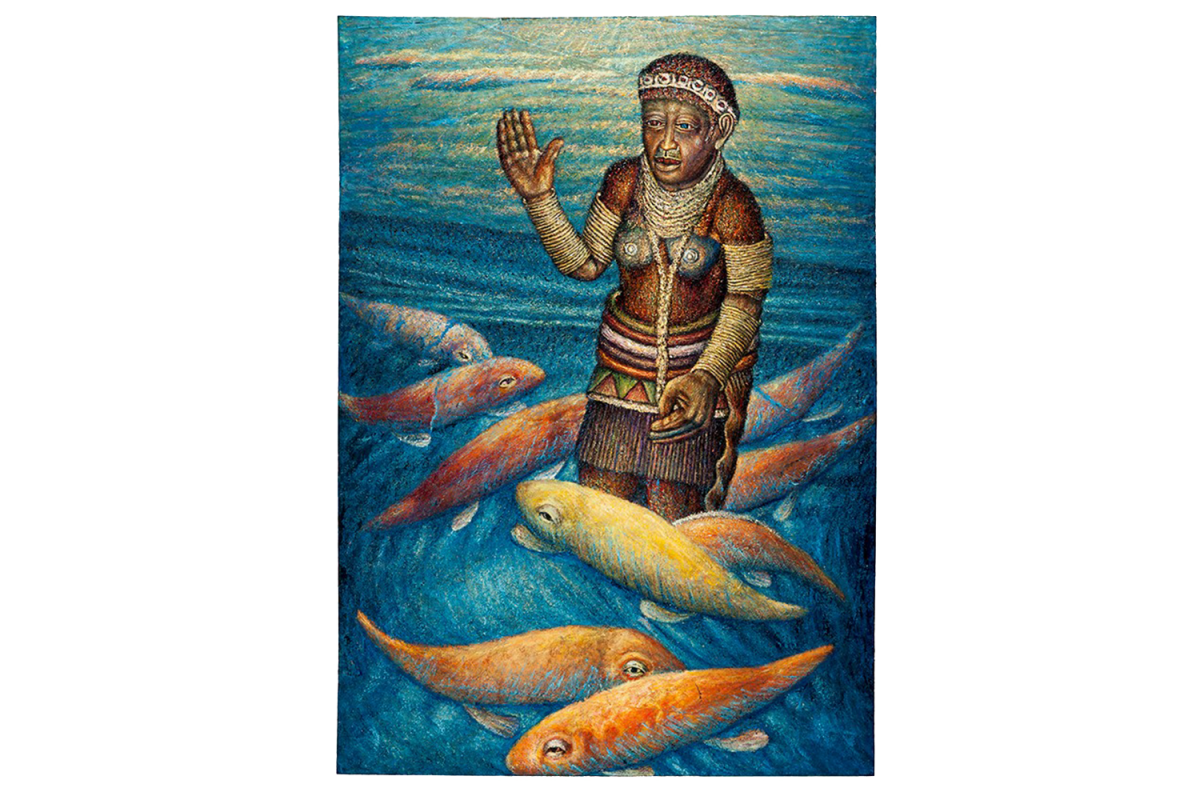 A Girl Meets Her Spirit Parents, 2014-15, oil on canvas,
105 × 74 cm
I cannot remember a time when I met my family's spirit animal, Noko, the bold and imaginative porcupine – this is an association familiar only to a few whenever I utter my surname. For this reason, the serenity and sense of belonging experienced by the figure in Mmakgabo Mapula Helen Sebidi's A Girl Meets Her Spirit Guide (2014 – 2015) is a slight sight of bewilderment and admiration. With fish swimming and floating comfortably around her, her hand raised in joyful candour and appreciation, Sebidi's figure is immersed in a sea of mystification – the horizon where the blue water and the blue skies meet barely conceivable. An endless realm surrounds her, and while it is contained within the visible picture plane, we imagine its vastness and its never-ending splendour.
Such is exemplary of the field of visuality offered by Sebidi in her recent work, where her familiar landscapes have taken on a deep and eerie blue, ominously suggesting an awaiting of a rupture. What remains the same, however, is Sebidi's continual referral to and advocation for an African spiritualism that has persistently been at the forefront of Black socialisation and Black conceptions of being in the world. To this end, Sebidi's works have often conjured up thoughts of animism and human-animal coexistence as a recuperative way of undoing neoliberal capitalism with its pseudo-inclusivity of specific Black bodies, and the endless cycle of racial capitalism and it continued suckling of the teat of Blackness. Throughout Sebidi's practice, representations of birds and her family animal, the fish, thlapi, abound. The cultural shines through this representation: the cunning fox and the religious/fleeting/free bird, the curious goat and the fertile/wealthy cow.
[1] Ukadike, Nwachukwu Frank. 1994. Black African Cinema. Berkeley, Los Angeles, London: University of California Press.
[2] Warren, Calvin. 2017. "Black Mysticism: Fred Moten's Phenomenology of (Black) Spirit", in ZAA. 65 (2): 219 – 229.
Deeply concerned with the effects of the removal of spiritual considerations in modern day life, she at once advocates for continuous spiritual immersiveness as well as warning of the dangers of a loss of tradition. As such, hers should not be considered a new theory or proposition of contemporary continental Black humanness, but rather a kind of 'return to the source' – to a potentially uncorrupted mode of being that is always already rooted in our relationship with the spiritual realm. While this return to the source is contentious on numerous philosophical and ontological levels, [1] Sebidi uses it as an invitation for reflexivity, for contending with the need to do work towards our constantly evolving identities that are constantly in flux, incessantly responding to and being shaped by our conditions and our times. Hers is an invitation for resistance: for a need to contend with forces whose immersive power removes us further and further away from what could be conceived of as our true being. The problem with returning to the source lies in the belief that there is a pure Black ontology prior to Black people's encounter with either colonialism or slavery. [2] This belief is based on a field of Blackness and Black ontology in the tri-periodic separation into precolonialism, colonialism and postcolonialism, or to think of it another way, pre, during and after a traumatic encounter. Sebidi, on the other hand, does not call for a Black existence or Black being that resembles pre-colonial times. Instead, she calls us to reflect on the spiritual belief systems that have always shaped Blackness, to embrace them and imagine what they might teach us about contemporary Black existence. Sebidi calls us to adopt the formative spiritualisms that have taught us to always do work, but for ourselves, thus reflecting on the growing tendency of racial capitalistic systems and their use and abuse of Blackness and the Black body.
[3] McKittrick, Katherine. 2015. Sylvia Wynter: On Being Human as Praxis. Dunharm; London: Duke University Press.
[4] Weheliye, Alexander. 2014. Habeas Viscus: Racializing Assemblages, Biopolitics, and Black Feminist Theories of the Human. Durham; London: Duke University Press.
[5] Sebidi, Mmakgabo Mapula Helen. 2018. Interview with the artist. Interview by P. Malatjie at London.
To this end, mine is an invitation to read Sebidi within the growing epistemology of African spiritualism that is currently being deployed and developed by Sebidi's contemporaries, whose practices allude in one way or another to quotidian Black spiritual economies. In Sebidi's work, this affective epistemology correlates deeply with a growing investigation into issues of humanism and Black ontology seen in the writings of Sylvia Wynter [3] and Kehinde Weheliye. [4] These Black ontological projects and their relationship to humanism take multiple forms, be it in locating humanness as always already racialised and gendered, as well as contemplating contemporary and modernist consideration of the same. In Sebidi, we see a concern with humanness that is rooted slightly in animistic visual gestures and concerns. Sebidi's visual ouvre, evident in works such as the impressive Mmagwane o Tshwara Thipa ka Bohaleng (1998–99) conform to a juxtapositioning of human figures and those of animals, painstakingly overcrowded on the picture plane. This visual language that Sebidi is very known for is often discussed in contrast to the lesser crowded landscapes of her hometown, such as the work, Landscape: A View of African Rural Life (1978). Perhaps an allusion to the mental states experienced in the metropole and outside of it, both these visual renderings speak to a mental health, something that Mme Mmakgabo often returns to in conversations. [5] The juxtapositioning recalls Alexander Weheliye's racialised assemblages – in this case, an assemblage that shows the always already racialised Black body in a state of discontent.
Sebidi suggests an investigation of the materiality of the Black body, perhaps as an effort to eliminate it from its imposed ephemerality. But the visible shift of the body parts – such as the face splitting into three in Ancestral Hope (2013–14) and Horse Spirit (2010) – alludes to a different mode of making and unmaking as the Black body, while firmly present and rooted in this earthly terrain, also suggests a kind of mirroring and doubling, a body in the process of either separating or being put back together. Sebidi removes Blackness from the position of objecthood and explores different "genres of being human" that are located within potentiality and possibility. She draws attention to Black livelihood and its often contested relationship to materiality and immateriality. The splitting faces are caught in an endless cycle of mystification, as doubling, that enabling tool, is used to image multiple spatio-temporal beings.
ripa mohlare o bolele le Modimo
Over the years, it has become apparent that conversations with Mme Helen will be buttressed by the call to "do work". Implicit in this need to "do work" and to "work hard" is the idea of Blackness and the Black condition that is always already embroiled in labourious processes of doing and undoing itself. While Sebidi's articulation of and invitation to working hard is a necessity for self-realisation, it should be considered within its continual conceptual enforced capture – work needs to be done, not necessarily to undo the effects of past circumscriptions, but as a reflective means with which we can reconsider our current and future conditions. Here we are made to consider how Blackness is always laboured and is always weighted under the rubric of labour, whether is it in capitalistic conquests, or in the making and unmaking of the Black psyche.
Batlhaping ba reng? sonic animation of the object
Stemming from the exhibition title, and the sound of sereto sa Batlhaping, we come to listen to what they say. Batlhaping ba reng? Through the work, we come to understand what it is that ngwana wa Batlhaping is uttering.
Batlhaping Ba Re! is an invitation to not only see Mme Helen's work, but to also hear it, and to hear through it. This means listening out for the conflation of different sounds (laughter, agony, fear, goats) in the many works (The Spirit Bird Fleeing the Modern World, 2014–16; Mmaseabela, 1992; and, The People are Called to See the Initiates, 2014–15) and imagining what each individual sound sounds like, and what, like a symphony, they sound like together. It also means, on an elementary level, listening to what the many recurring symbolism and iconographies (name them) of Sebidi's work, which traverse decades, are communicating to us. What happens when we not only look at and 'read' the work, but when we also listen to the work? What sounds does the work make when you look at it?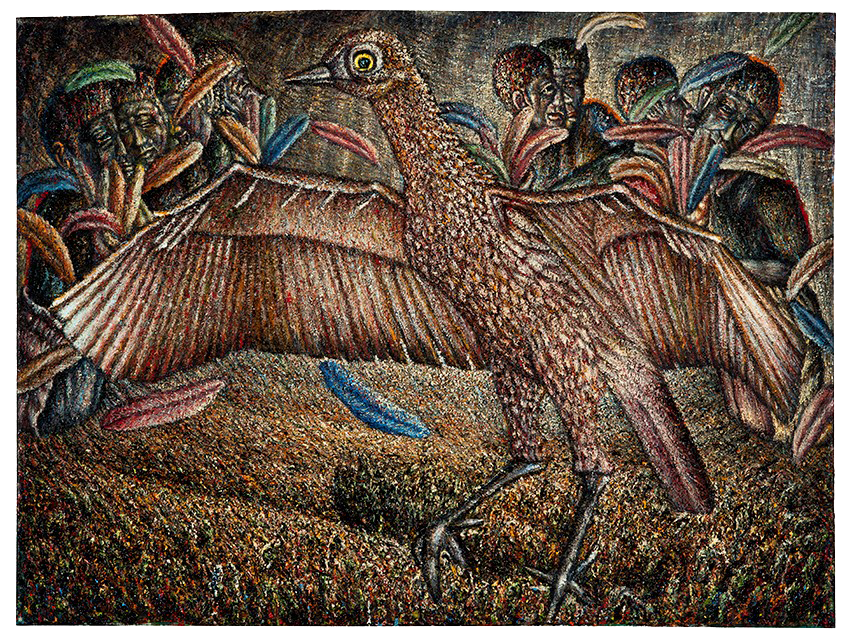 The Spirit Bird Fleeing the Modern World, 2014-16, oil on canvas, 70 × 93 cm
[6] Here I am recalling Christina Sharpe's "In the Wake: Blackness and Being". North Carolina: Duke University Press. (2016).
For me, it makes that sound that fish make. This is the sound that, at first consideration, one imagines does not exist. We attribute the sound the fish makes when it swims across the surface of the water to its wake, [6] to the rippling effects and swooshing sound made by the water. We imagine the sound not to come from the fish, but from its encounter with its surroundings, and the acoustic vibrations it potentially makes after coming in contact with other materials. We do not imagine the eerie, haunting and chilling sounds of the fish, which on occasion, reverberate across the ocean floor with no immediately discernible point of reference. But, with enough effort and will, one hears the sound of the fish. One is spooked by this discovery. And in the end, one revels in the acoustical and phantasmagorical reverberations of the sound of the fish.