The Obsidian and the Sea
Noe Martínez
Ilustrisimo Tlakatl Nuño de Guzman.
tekitli de la rovincia del Pánuco
Ce tekitli de la audiencia de la Nueva España.
Presente.
Inka cuali ta Nuño sempa nakaltiztok pa yaya xihuitl ke na.
Ti piajki moixtlapaltitok pa kochistli mokuapolojtok seyok nememilistli,
kampa tech tzeka pa kochis tzenpayok nahui imani kuatzatzik ixi nenemin yolik pa altepetl Mexico.
¡Keniki ti asiko pa kakahuatik ke na kia inka ni mi ximatic!
Keniki titztok tlan ke na nipixki tlapantili pa na iselti.
Ta tech panoka.
Ta tzempa, inka tlakuanotztli.
Nitztok hualistik tlalnemiki ne Panuco.
Ta ti moitzkitakpa pa tlankoch tentik ua yayauik
tlakame ne Coxcatlan,
ne Huichihuayan ne Tampamolon.
Tiyasok tich yayahualki nochi tlakayo.
Ni kiximati;
Ti pia xoloxayakatl ti mikti koli i koli
tata ni kolitata i koli i koli no ta tata.
Tixtoya ce xihuitl tekiti Panuco.
Cempoali uan ce cenzontle mokuapolojken pa ni xihuitl, itstouan pa Cuba
pa Haiti
pa Antillas
Inka kema tlatlani tlaki onkac moki ikti na itztoki tzimolte ueiatl inka teno nochipapamapa, seli tekipanojken.

Tech tocalhui ni tokalika hasta Michoacan uakakiampa na ce chachapali.
Tech kilhuike ti teteki miyac tlakame nepa Tzintzuntzan.
Inka ni mati. Ni tlapaki.
Keniki ti mati, ce kentzin kelnamiki paloua kema ce poloua anehuatzin.
Nochi kimaken.
Ni mi kiximati Nuño
kiampaya axkanilistli te ualaken,
yeuaya ti kamaltik,
miyakin mi tzitlan pa pantalla,
miyakin mitz kalki pa miyac mauistik electrónicos,
Machili miyac uei eltok kipia makuali poualxiulilistli
¿Nelvtikia tzempa nakaltiztok ke tlamianti?
Pa tlalketa. Inka
Ke yaya tlanekistli inka ni ximatic nepan tla mikini ni tlakayo. Nika ti itztok.
Ya timati tiztos cuitlapa Cortez pa ke inka akii kitak mo chingaderas.Ama yoloua, yeuaja ce chikome tonali, nochipa axkanilistli tiztok ti miyac hueltok,
unkak kentsi ne ta pa nochi kestla.
Pa tlacame ma tlalken tlamanti.
Ce pampa, kikuapoloken i tlalnamiki kema ki kake.
Nochi ni matin
tlatani Nuño nochipa ti mo iximatin
ni mitz kiximatke
quema xihuitl ti mi kipanti kematzi kema kochistli
ijuanten ti mitz temoa ti kuaranki ixiti inka ki mati conke tlan kilkaua timokaki.
Inka kualitli ne ta,
nochi kuali pa touanten.

____________________________________________________________

Illustrious mister Nuño de Guzmán.
Provincial Governor of Pánuco
First president of the Audience of New Spain.
PRESENT.
The worst thing about you, Nuño, is that you reincarnated in the same time as me.
You had to cross through the lost dream of other lives,
In which I cornered myself to sleep after four hours of shouts and slow steps in Mexico City.
How you arrived at this corner that I myself don't know!
How you're in the region that I had to discover in my solitude. You passed me.
You are, once again, an intruder.
I'm sure you remember the Pánuco.
You reflected in the sharp black teeth of the lords of Coxcatlan, of Hutzihuayan of Tampamolon.
Then you blackened their whole body.
I recognize you;
You wear the expression with which you killed the grandfather of the father of the grandfather of the grandfather of the father of the grandfather of the father of the grandfather of the grandfather of the father of my father.
You lasted one year governing Pánuco.
Twenty thousand were lost that year,
They were in Cuba, in Haiti and in the Antilles.
They never wondered what happened after being in the belly of the sea monster, there was no time for it,
they only worked.
You followed me and I followed you until Michoacán, in that time it was a claypot.
I heard that you dismembered many men in Tzintzuntzán.
I knew no more.
I broke.
And as you know, a fraction of memory is lost when one loses utility.
Everyone knows that.
I know you, Nuño
This time we agree,
A few hours ago, you spoke
thousands see you on screens,
thousands listen to you because of electronic miracles,
You feel more omnipresent than five centuries ago.
Do you really think that we reincarnate as objects?
To weigh you.
No
With the same willingness that recognized neither the mortal nor the body limits.
Here you are.
You managed to climb Cortés' back so that nobody would notice your fuckery.
Today, yesterday, a week ago, for a while you have been multiplying,
There are parts of you everywhere,
in men who have decided to be things.
And for that, they lose memory when they are no longer useful.
We all know.
The question, Nuño, is that in this time we already knew one another
We already knew you
For years we have met from time to time in dreams
Some of us have searched for you and were pissed off to awake and not know in which region of oblivion you remained
The worst of you is the best of everything.

____________________________________________________________

Text and voice by Noe Martínez;
Sound composition by Alberto Rubi based on field recording by Carlo Bonfiglioli.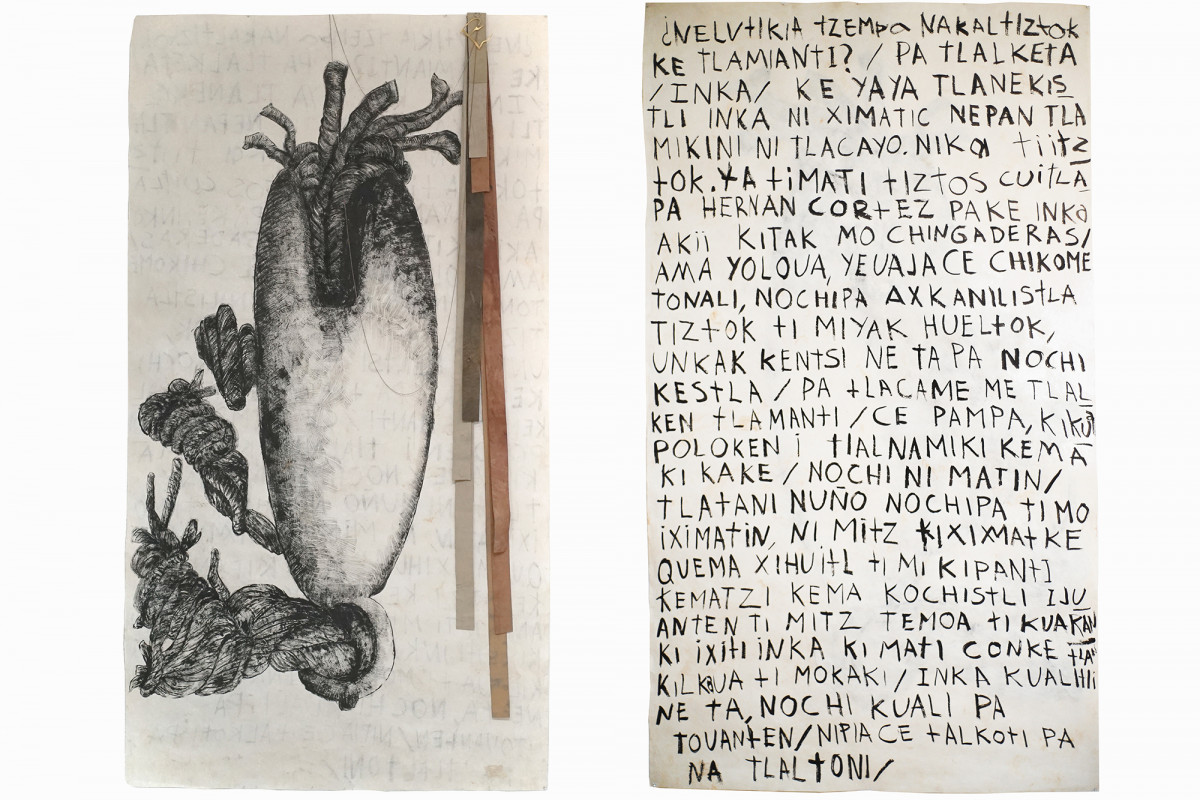 Noe Martínez, La patría de las imágenes 10 (front and back), 2019-20; Chinese ink on amate paper, gelatin silver print, silver alloy; 86-1/2 x 45-1/4 inches; Courtesy of the artist and Llano Galería, Mexico City.