Paisajes Sonoros
Joaquín Orellana
"ESTA OBRA FUE ESCRITA EN JULIO DE 2012" is written at the bottom of the contents page of Fantoidea. The musical score was written by the Guatemalan composer Joaquín Orellana and serves as the first piece in Orellana's Soundscape. In the accompanying video, recorded at La Nueva Fabrica in Antigua Guatemala, the first few notes inform the viewer that saying 'this work was written in July of 2012' is an oversimplification. That although Fantoidea may have been written — or more likely completed — in July of 2012, it was the culmination of a multifaceted artistic pursuit that has spanned over half a century.
Performers stand behind sculptures fastened from wood, wires, turtle shells, metal and bamboo. Dressed in black, musicians take their places behind the instruments, gripping sticks and curved bows, awaiting the conductor whose movements prompt a wave of metallic tones as two sets of chimes are sounded, transporting the audience inside Joaquín Orellana's Soundscape, a world populated by his "sound utensils", the vibrations they make, and the stories they tell.
When two flutists take their place on either side of the conductor, they deliver the audience a calming sense of familiarity. But it's when dual Marimbas, Guatemala's most recognizable vernacular instrument, take center stage, accompanied by Orellana's own powerful voice, that his elegant mastery as an avant-garde musician is revealed. It's here that his singular ability to transpose his rigorous research of pre-Colombian and non-colonial aesthetics into these sonic landscapes confirms him as one of the most important storytellers and creative figures of contemporary Guatemala, capable of bridging the enigmatic and the quotidian.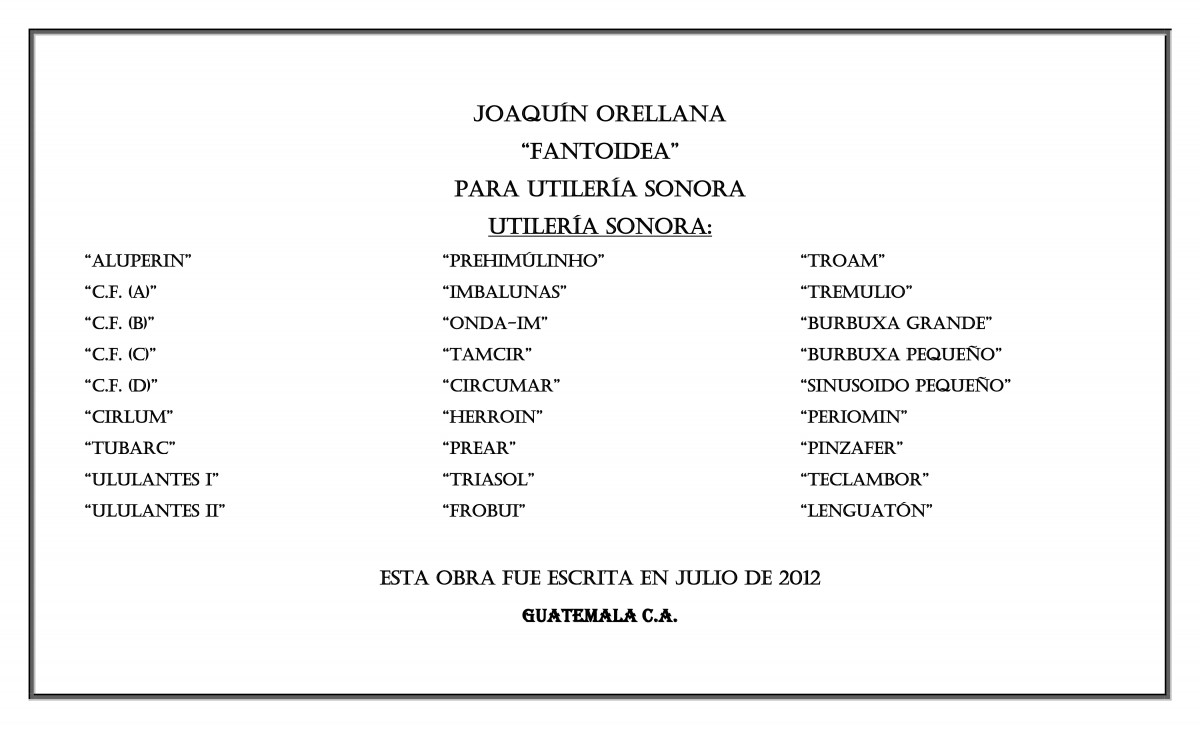 Joaquín Orellana, score for "Fantoidea", 2012. Copyright: Joaquín Orellana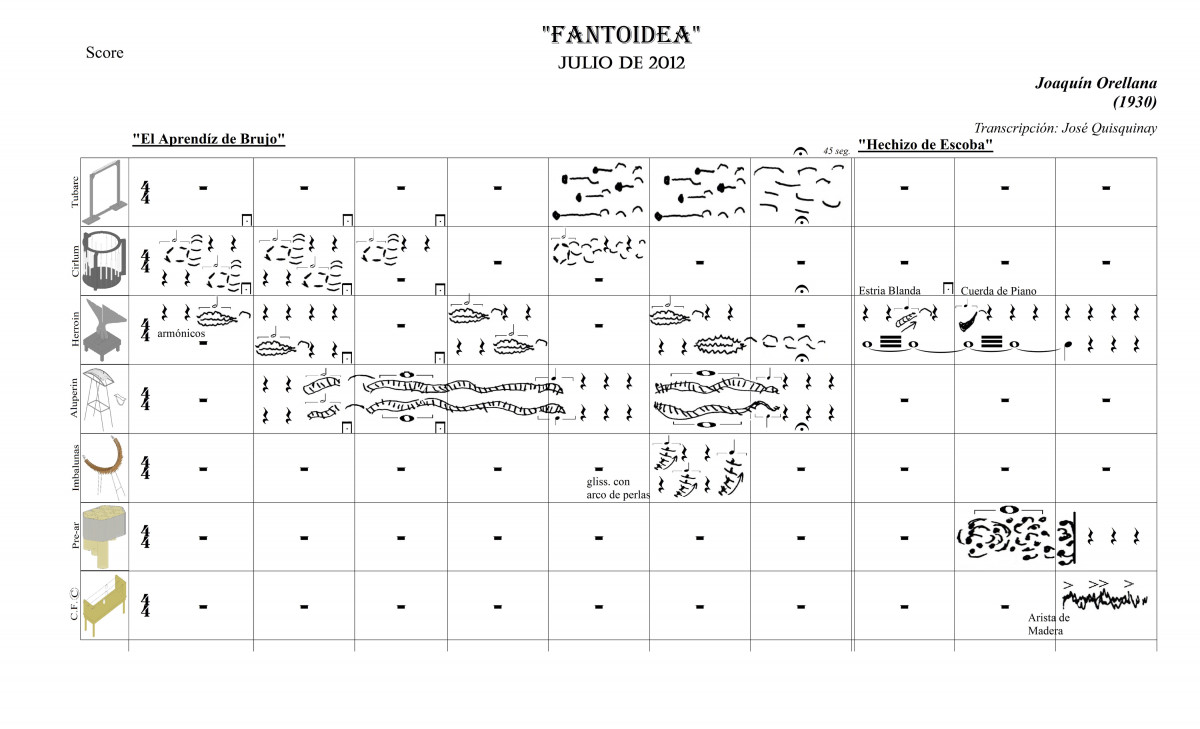 Joaquín Orellana, score for "Fantoidea", 2012. Copyright: Joaquín Orellana
____________________________________________________________________

La Nueva Fábrica is an art space in Antigua Guatemala that supports creative exploration through galleries for exhibitions and community events, an artist residency program, and multidisciplinary workshops and studios.
La Nueva Fábrica is part of New Roots Foundation; supporting art, education and the environment in Guatemala.
"Paisajes Sonoros" was directed by Julio Santos

Musicians: Félix Alberto Azurdia, Alex Rodrigo Cortez, Ricardo Melchor, Julio César Santos A., Marvin, Ardany López, Laura Cristina Pellecer, Jonathan Van Der Hens, Cristian Escobar, Ulises Martinez, Escobar, Jenery Castillo, Franando Jose Soto, Oscar Julajuj, José Domingo Velásquez, Armando Hernández, Juan Carlos Pérez, René Alcides Argueta, Maximiliano Boche, Erick Yantuche Cuyán, Carlos Sequén, Dúlcida Garcia, Gabriela Corleto, Julio César Santos C., Rodolfo Armando Oliva